SPRAY TAN IN CLEARWATER, FL
For the girl on the glow! Our rapid solution allows you to rinse off as soon as 1-3 hours after application, depending on your desired depth of color. Your tan will continue to develop for 24 hours after your first shower. It's time to let your inner glow shine through!
This is the perfect opportunity to stay tan and be hair free. Post laser spray tan also helps protect your skin from the sun.
It's not enough just to make your skin look great, we want your skin to be great! The Breeze Caffe Brown Rapid spray tan solution is infused with coffee seed extracts, aloe vera and green tea. It also includes an anti-aging complex consisting of FDA-certified ingredients and nourishing botanicals that will keep your skin looking young and soft!
What I like most about my solutions that they are Rapid. What is Rapid? How does it work? Rapid means that it is an accelerated formula and clients MUST rinse in 1-3 hours, depending on the darkness they want to achieve. It's that simple. This product will last 7-10 days if kept moisturized. It 'flakes' off naturally as a tan would, no weird patches or streaks.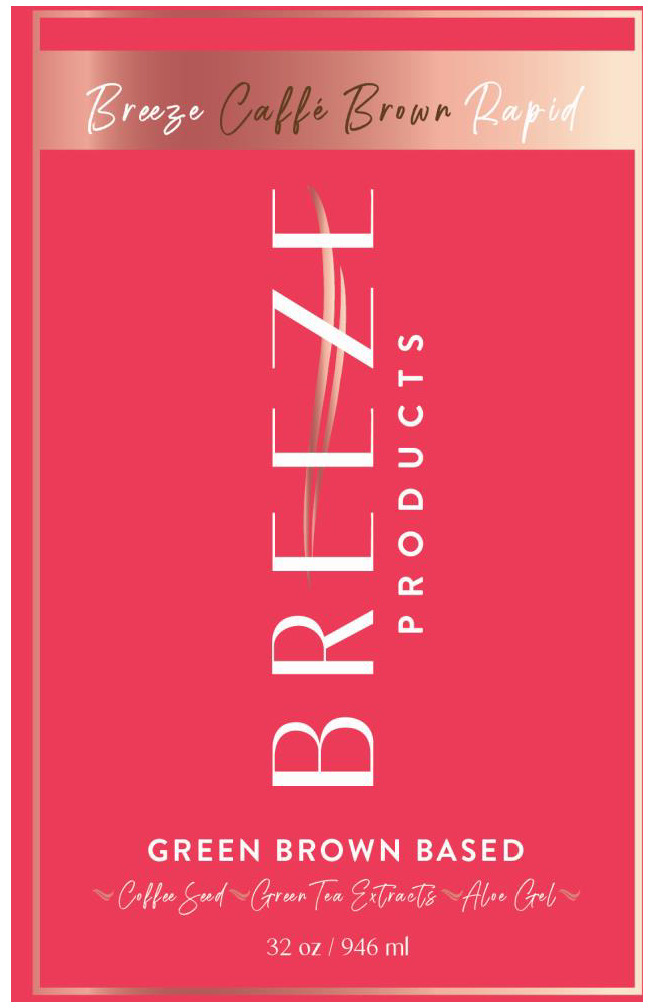 Caffé Brown Rapid
A perfect balance between colors produces our proprietary beautiful green-brown based tan. Great for people not only with red undertones but all skin tones to enjoy and love their flawless dark color. Our formula also offers skin loving ingredients that will help promote the production of elastin and collagen, which is essential for reducing fine lines and wrinkles. Hydrate and love your new perfect tan!
Green Brown Based Solution
Balances red undertones
Great for all skin tones
Rapid
Moisturizing skin extracts
Coffee seed Extracts
Green & White Tea
Aloe Vera
And More!
MOBILE SPRAY TAN SERVICES
Our Spray Tan system is mobile, so we can book parties wherever you like. Some of our biggest customers for spray tans are college sororities, stage competitions, whether it be, fitness, bikini, cheerleading or dance. If you have a wedding soon and are looking to get yourself and the bridal party wedding day beautiful, we are here for you!
OUR SPRAY TAN PRODUCT
No spray tan solution is 100% organic despite other companies' claims. But the solutions I use come from a company that is very health conscious and because of that they provide as many natural and organic ingredients as possible. All our sunless products are custom formulations that are Vegan and Cruelty free (PETA approved). All formulas use many Anti-Aging ingredients and Antioxidants. Our solution is locally blended and created just for us here in Largo!
The primary, active ingredient DHA (Di Hydroxy Acetone, a simple non-toxic sugar) is the self-tanner added to created additional color for natural tanning results. The DHA and the other natural ingredients work with the amino acids in the top layer of your skin producing a natural tan exactly like the sun. It's completely safe and FDA approved.
HOW TO PREPARE THE DAY OF YOUR APPOINTMENT:
Wear loose clothing the day of your spray tan!
Shave and exfoliate the day before your treatment removing dry, flaky skin that may cause uneven tanning.
Please DO NOT SHOWER, right before you come in. That is one of the cardinal sins in properly prepping for your tan. This is will leave your skin hydrated and most times the solution will repel and bead up on your body.
Try to at least shower either the night before or a minimum of 4 hours before your appointment.
Your skin should be clean
Remove make up
DO NOT apply lotions, deodorant or perfumes prior to getting sprayed
Remove all jewelry
WHAT TO WEAR DURING A SPRAY TAN (OR BE NAKED!)
You may tan in the garment of your choice or nothing at all, it all depends on where you want or don't want tan lines.
Tight clothes can rub the DHA bronzer and smear the cosmetic bronzer.
We recommend dark, loose shorts, and a loose-fitting shirt or a sun dress.
AFTER YOUR SPRAY TAN APPOINTMENT
Important: You must avoid getting wet until your first shower. Immediately after your spray tan avoid any activities that may cause you to sweat. Be sure to book your appointments in advance, so we can brief you on proper prep before your spray tan.
Some helpful tips:
Use air conditioning in your car on a hot day to avoid sweat.
Refrain from getting wet, no rainy days!
Drink from a straw if you are having a beverage.
Once you are wet, it is very difficult to fix a streak on your face.
MAINTAIN YOUR SUNLESS TAN
When you are showering, stay away from bar soaps, especially Dove, this will immediately strip your tan, use only high-quality shower gel and DO NOT exfoliate or use beads/sponges.
Don't take long baths, showers or Jacuzzi, as chlorine can cause your tan to fade.